GERI
Medium
Front-end Dev and Adobe Creative Suite


Client/Class
Product Studio:

Samsung
x
Cornell Tech
Problem
How might we increase consumers' understanding of how to take advantage of Smart Home tech?

Roles & Duties
Visual & UI Designer

Worked with
VP of Samsung Electronics America
to solve the challenge on Smart Home products:


"How might we increase consumers' understanding of how to take advantage of Smart Home tech?"



---
Product Overview


Users:
Senior Home Caretakers

Goal/Purpose:
Ensure better care for the elderly via a monitoring system

Feature (Main):
Alerting caretakers if an abnormal behavior is detected – listing out what was observed






---
Problem
They just don't buy it
Smart Home has recently been a growing topic according to Gartner's Hype Cycle – showing Connected Home at its peak.
But one major concern within Smart Home is that its
adoption rate is not at the same rate of personal tech
like smartphones and wearables. With strong competitors like Amazon and Google, Samsung needs to find its key differentiator and root itself as a key player.
---
Team

As a partner student in Cornell Tech, I worked in an assigned team of five across multiple disciplines: Computer Science, MBA, Health Tech, Connective Media.
Our Team (left to right):
---
Challenge
Show them to convince them


"How might we increase consumers' understanding of how to take advantage of Smart Home tech?"

Or in other words, how can we show them the value of Smart Home in order to convince them to invest in it. So I dove into research and see what pain points there are and what compels people to adopt technology and integrate them into their lives.
---
Research
They just need a little nudge
Here's what we found:
Current top uses for Smart Home tech are: Security & Home Monitoring, Lights, Energy Saving, and Convenience & Entertainment
Users are unconvinced that the price of Smart Home products are being justified by its value


The virtuous cycle: once consumers adopt smart home devices and experience their benefits, they are inclined to adopt more




Most cosumers are aware of Smart Home products through word-of-mouth (WoM)
Barriers in adoption:
1) Pricing

Most consumers find Internet-of-Things (IoT) expensive.

2) Privacy & Security

They're concerned about privacy and security issues .

3) Ease of installation

Find IoT devices too confusing to install. Complicated onboarding processes.

---
Brainstorming
Finding that painpoint to showcase the Smart Home value
To explore opportunities, we broke down Samsung's products, user groups and use cases. We identified potential wedges (in magenta boxes) and moved to brainstorming for ideas.
Team Brainstorm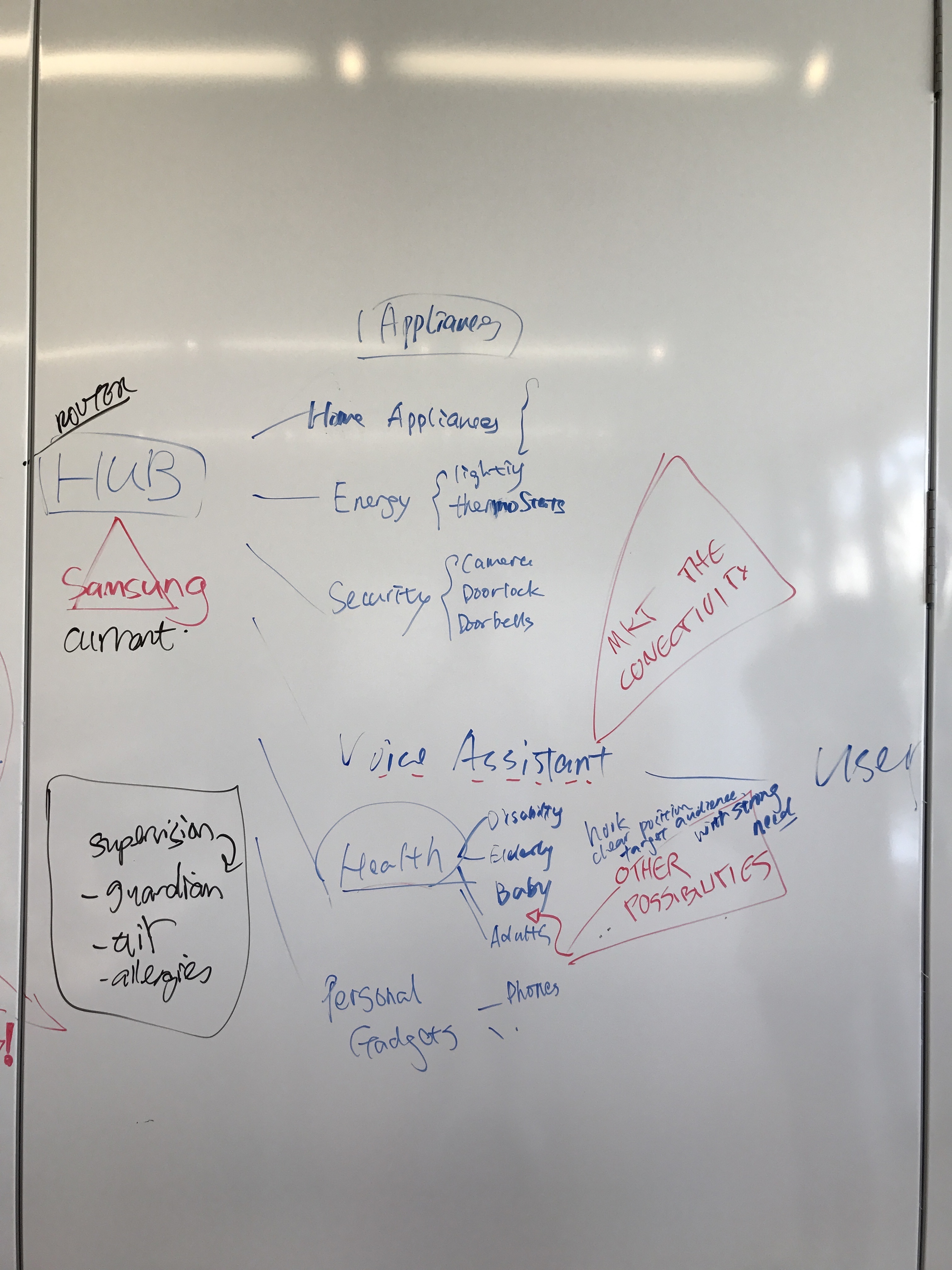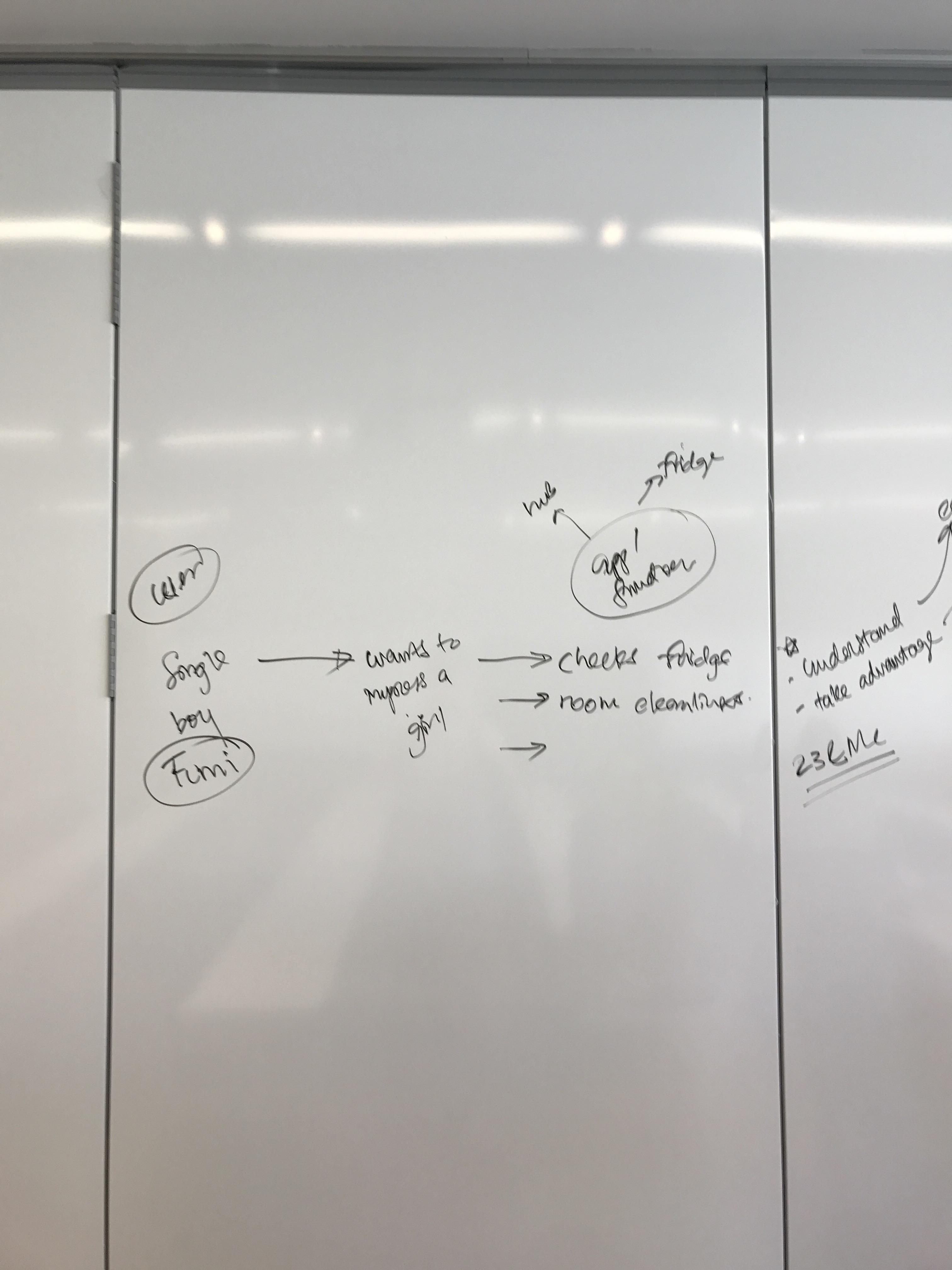 We narrowed down the challenge to focus on the health tech industry and the aging group because that's where we found out where Smart Home tech can best showcase its value.
We've validated this idea with
RiverSpring Health
, a Hebrew Home in Riverdale, where nurses tend to the elderly in a manual fashion. What was shocking was the fact that
a handful of nurses tend to 800+ beds
– there is only a limited amount of attention a nurse can provide to its sea of patients.
---
Challenge Reframed

Same challenge, just more focused
"How might we increase consumers' understanding of how to take advantage of Smart Home tech?"


"How might we leverage Smart Home tech to help seniors live better?"

By highly focusing on a specific use case and perfecting it, we can hopefully start the WoM cycle, spreading the awareness and advantages of Smart Home tech, ultimately addressing our original challenge.
---
Research Interviews

Insight driven decisions
We interviewed geriatrics, hospitals, and nursing homes to further validate the idea's product-market fit.
Dr. Lachs
, Co-Chief of the Division of Geriatrics and Palliative Medicine at Weill Cornell Medicine, and
Mr. Devray
, Assistant Director of Nursing Department at the Long-Term Skilled Nursing Care at Coler Hospital, gave us invaluable insight on what types of
data and charts they used
in
assessing the performance of seniors
.
Hence, we have
designed our data visualizations accordingly
to their input.
Who we interviewed and what we found:
Physical aids (meaning nurses and assistants) are better predictors of looming sickness compared to doctors


Time performance of basic activity aka Activities of Daily Living (ADL) are strong indicators of looming sickness or death
Already looking for an intergrated Smart Home system in the past year


Needs a universal hub that could collect data from all different devices from different brands and provide data-driven actions



Data concerned:

safety/security & clinical
1:27 nurse-patient ratio



Nurses evaluate the independence and frequency of assistance needed in day for each patient



Data concerned:

sleeping, transferring & eating
---
Solution
Mama (nurses) knows best
GERI: A health monitoring system for early health detection & intervention
Since nurses know their patients better than doctors do,
we've created GERI – a health monitoring dashboard equipped with data visualization for nursing homes to detect elderly looming health risks.
The system is comprised of 2 parts:
A series of smart devices strategically installed in the elderly's room to collect data.

In our prototype, we used Samsung's smart home starter kit – specifically its motion sensors, to collect live data.

Using Samsung's smart app written in groovy, the data was then pushed to our "Firebase Instance." This allowed us to work with the data, visualizing them and presenting the insights on our dashboard via JavaScript.


A dashboard that allows nurses to monitor and act upon the collected data.
---
Design
Design, Feedback, Iterate, Repeat
Sketches
Early stage userflow brainstorm & sketches
Just a light description of the sketches: an improved version of a universal hub app, userflow for a nurse for the GERI dashboard, the entire userflow/wireframes for GERI, showing what the nurse would see at each stage.
Key Players


Who we work with and who we test with
Iteration 1


Before nurses and nursing homes came into the picture, we mocked up what a family member would have used. Using the same data recommended by geriatricians, we visualized them on the dashboard and provide actionable results for the user.
Feedback
• Remove Alexa & emergency alerts due to its high possibility of false alarms.
• Desktop would be a more reasonable/feasible idea

Mobile dashboard hompage
"Location" expanded, showing where the elderly is located




Iteration 2
However, after focusing on nursing homes and hospitals, we learned that a dashboard, specifically iPad or a desktop, is more industry appropriate.
In the initial design stage, we focused on core features such as
alerts
and
activity logs.
Dashboard from Sprint 2
The homepage
greets nurses with any alerts and/or warnings
collected while the nurse was gone, indicating help needed and potential emergencies.
The nurses can also easily scroll through the patient list (on the left), checking up on their performance.
Dashboard from Sprint 2
A research/data-driven decision we made was referencing
Activities of Daily Living (ADL)
in designing our data visualizations for nurses. ADL is basically the metric that is used to measure "performance of basic daily activity and movements" as mentioned by Dr. Lachs.
Iteration 3
In the second iteration, I focused on branding. I wanted to establish a
sense of trust and professionalism
while not becoming stale (Windows 98?) like most medical dashboards in the industry.
One critical design choice I included was
timestamps.
As alerts and warnings may vary for each patient in respect to their health records and history, having a timestamp of when the warning occured can give nurses a sense of how urgent that case really is – giving them space to prioritize.
Dashboard from Sprint 2
I further polished the patient's ADL chart. In this specific use case (patient got a UTI), I highlighted the Bathroom Visits as an alert, showing abnormal behavior. Although having a call to physical action was important in the product, we decided it wasn't the right time to add it in due to the complex nature of diseases/infections and symptoms. So, we point out abnormal data and let the nurses take over (make his/her judgment).
---
MVP

Build, build, build
Leading up to the final (crucial) presentation, our engineer used bootstrap and developed the site as close as possible to the design mockups.
Prior to that, I made a couple of quick design improvements and iterations in accordance to the feedback from nurses and physicians:
Activity summary for working efficiency
Data visualizations revised according to industry preference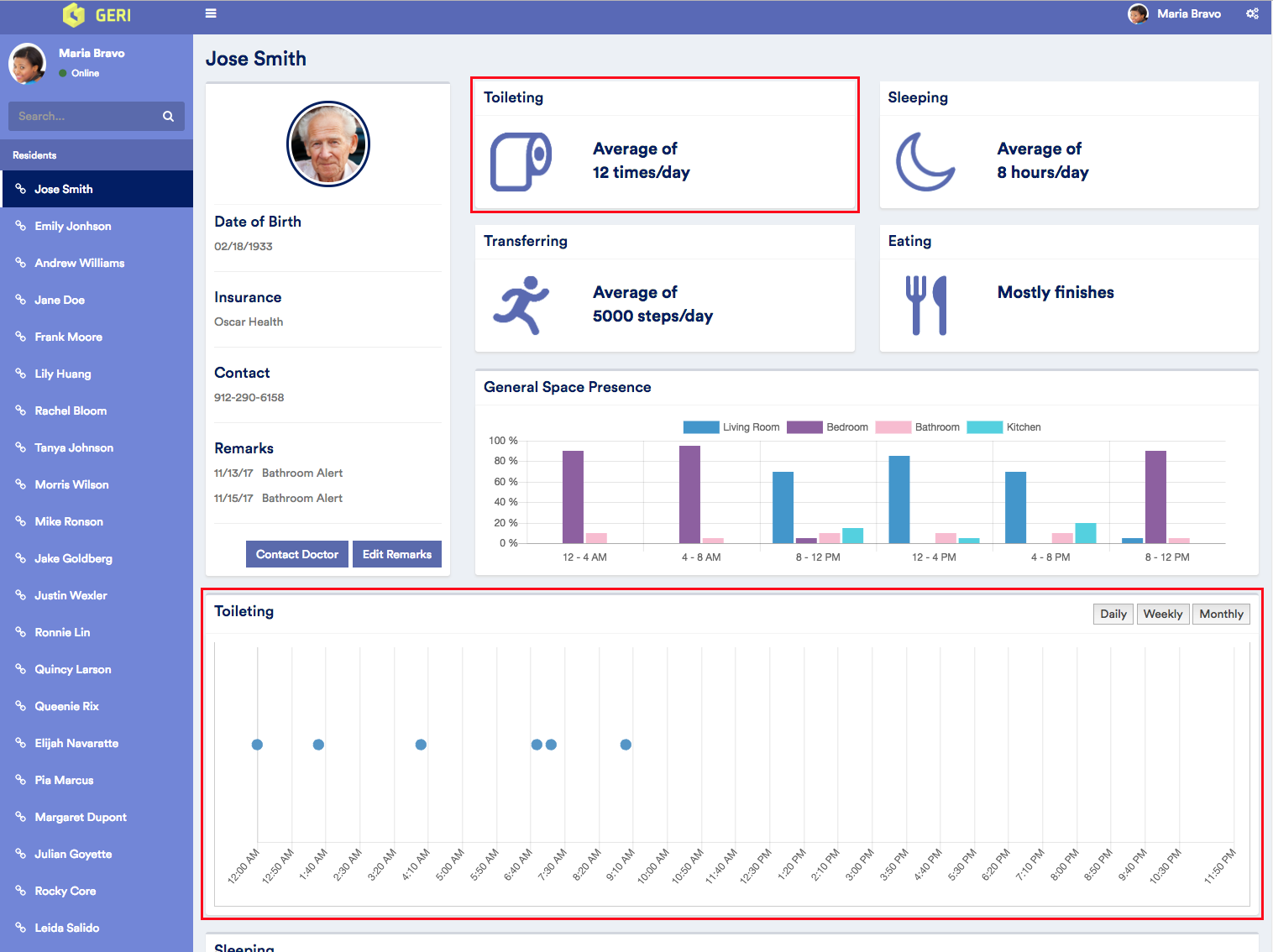 Working Dashboard from Sprint 3
*
*Due to tight time constraints and development issues, design was compromised in order to have the prototype working in time for the grand presentation

In order to demonstate the product in its most realistic scenario, the toileting data was populated with research data mixed with real-time collected data, just to show what the nurses and doctors would look at in their normal day to day work schedule.