Oversee
Medium

Adobe XD


Client/Class
Mobile Design

Problem
How might we ease the immigration process and paperwork tracking for international students who intend to study in the United States?

---
Product Overview



Users:
Non-American students

Goal/Purpose:
Reduce the possibility of immigration hiccups

Feature:
Ensure everything is in check in regards to paperwork, documents, and status










---
Problem
Swamped with paperwork & confusion, topped off with poor "customer service"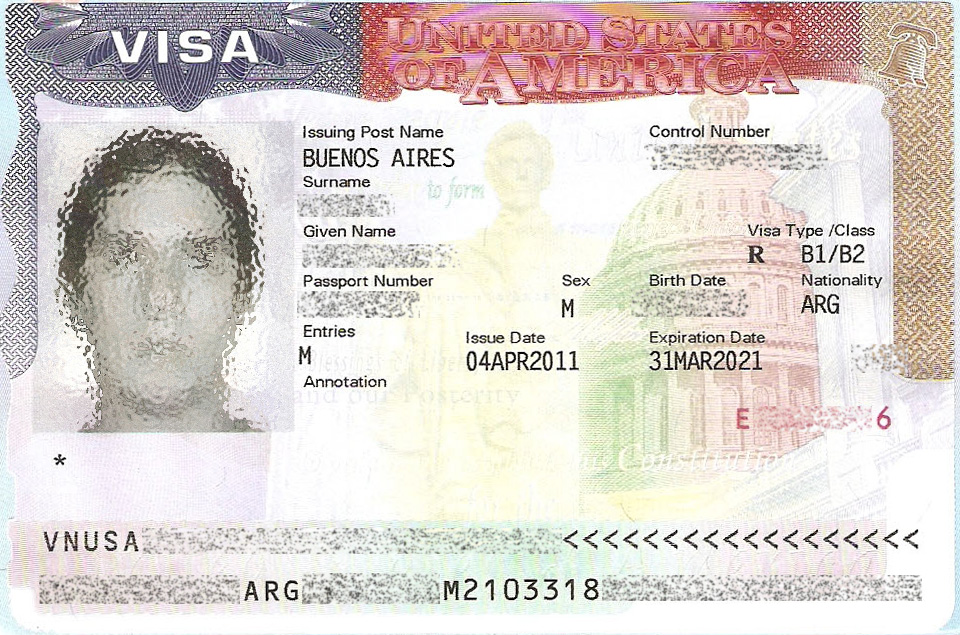 F-1 Student Visa Sample
Applying for a US student visa can be a tough and lengthy process. Some high schools provide assistance, and some don't.
On top of that, what if the international student services don't reply to you in time due to the thousands of prospective students they have to deal with on their part?
---
Research
In 2017, you'd think design would be at least be applied
This is a checklist the school sends out to students whenever its peak travel time.

Often neglected as sandwiched within other info.
Pain Points


Tough and lengthy process and paperwork

Papers to keep track of their expiration

Things to be aware when making decisions (e.g. travel)

Proposed Solution


Track and reminds you of expiring documents

e-Copies of documents with you all times

Checklists to assist in multiple procedures

Immigration related updates
Understanding the User
The user is
an international student
that wants to
ensure everything is in place regarding his documents and status.
The user needs to
ensure everything is in place regarding his documents and status,
because
if he/she doesn't, immigration issues arise.
Vi Ka Chaang, 20, Malaysia

College:
Purdue University

Interests:
Sciences, Genetics, Korean Drama
Goals:
Survive through college,
Get a sustainable and good job
Frustrations:
Vagueness and ambiguity,
Annoyance and restrictions that comes with being "international"






Zina Ibrahim, 21, Kingdom of Jordan
College:
The New School
Interests:
Architecture
Goals:
#Workaholic,
Achieve study life balance
Frustrations:
Things that don't work as promised
Tiffany Ying, 19, Hong Kong SAR
College:
The New School
Interests:
Graphic Design
Goals:
To figure out what she wants to do after college
Frustrations:
Paperwork in general
Flow Research

First, I identified the key information the app should know in order to guide the students in the right direction. A common example would be:
has the student acquired a visa already?
This is because different students from different schools and states would be at a different stage in their application process. The app's value comes through as soon as the student goes through college applications (prior to high school graduation).
Empathy Map

Within the researching phase, I had flashbacks to the stressful times during the initial process. With that said, it was important to revisit those moments and do a little empathizing with users – what would they be doing besides applying for colleges and visas that are also stress-inducing? What would they be commonly seeing in this phase of their life?
Journey Map

---
Immigration assistance and monitoring – all in your pocket
An app that guides and assists international students that are intending to study within the U.S. with a limited range of immigration related services.
Main features
Be able to add and track documents (also see a sample as to avoid confusion)
Activate checklists
Notifies of any documents that needs to be renewed
Notifies of any significant immigration changes
---
Design

The "formal service" look
Visual Research
Some moodboard research to get the look & feel of what I want to include.

---
Features
Step by step along the way
Onboarding:
Brief overview
Onboarding:

Asking if the user has or hasn't obtained a visa. If haven't, start the guide with a checklist on jumpstarting the process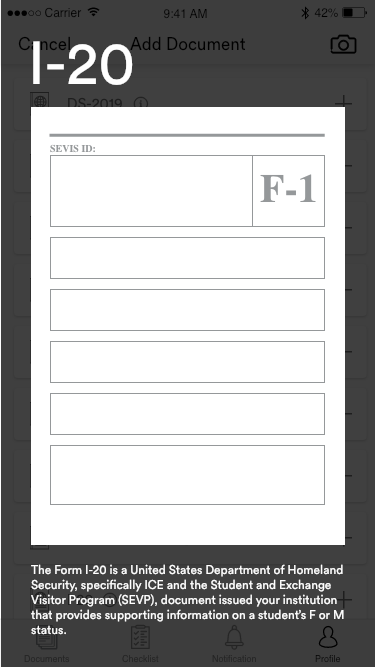 Checklist
Checklist for an F-1 visa application with icons indicating the nature of the type of document. Info icons are available to inquire more about the specific document.
Add Checklist

Add a checklist depending on which processes the user wants to proceed with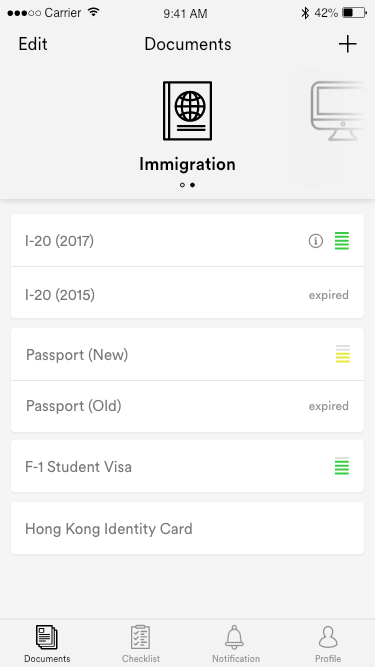 Expiration Watch
Immigration related documents the user has stored within the app. The energy-like icons indicate how close it is the documents are being expired.
Example of a document expanded.
Here it shows the number of I-20 copies the student has accumulated over the years. This will come in handy when transitioning into OPT or demonstrating for immigration purposes.
Users can opt to renew, edit, or add a document.
'
Notification screen reminding users:
to check their I-20 before leaving the country for spring break

to renew his/her passport as its about expire
Add document screen
Add document screen where the user enters document info and a scanned picture.


---
Iterations

Main changes: added colors, swapped icons and distinguished heirarchy of information. As the designs were being iterated, so were the brand guidelines.
1)
From the initial swipe to navigate documents between Work and Immigration related, to becoming a nav on the top since its only two tabs.
2)
The order of documents have also changed and reflect the level of expiry, with the bottom being the one that will expire soon.
3)
The checklist screen before and after color change and icons included on the checklist name. The highlighted colors indicate that there's a sample document for the student to reference on.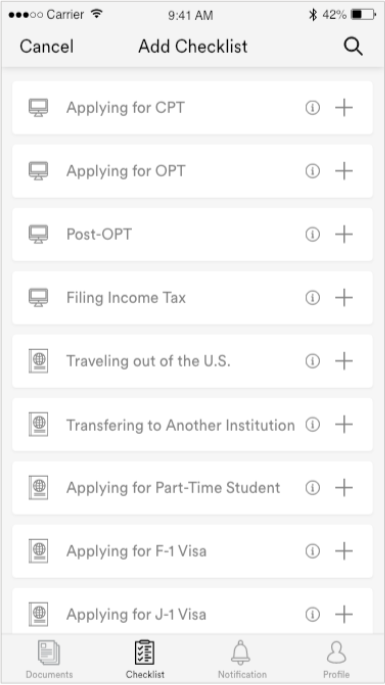 4)
The Add Checklist screen before and after color application. The blue and turquoise categorizes the documents to Work or Immigration related.
5)
In addition, users are also notified that documents will be auto added in their Documents screen for them to fill in. An example would be the next image.
6)
Passport and Financial Documents are highlighted in red, indicating that the user has yet to add these in order to fulfill an existing checklist.
---
Final Designs

Critics wished this wasn't just confined to students but to open it up to foreign employees!